Cold laser therapy, also referred to as low-level laser, is a non-invasive therapy offered by our chiropractic team here at Sports & Spinal Wellness Center. This specialized light targets specific muscles and tissues of the body. As the light is absorbed by the tissue, it causes a cascade of cellular changes within the tissue, stimulating the body's natural healing response.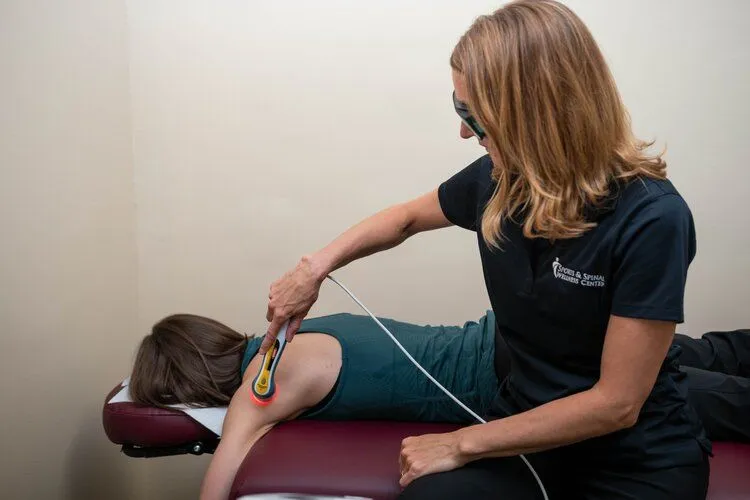 What is Cold Laser Therapy, and how does it Work?
When this specialized light emitted from this handheld device is directed toward tissue it triggers a healing response. This non-thermal light (which means that it doesn't produce heat) can target the dermis, epidermis, and subcutaneous layers of the skin, penetrating as deep as 5 cm below the skin's surface. The light is directed over the area from 30 seconds to a couple of minutes.
What are the Benefits of Cold Laser Therapy?
The purpose of cold laser therapy is to help trigger a set of cellular responses that helps to reduce inflammation and swelling, repair damaged tissue, and reduce pain. Since it triggers the body's natural healing processes, it's believed to provide a faster recovery time.
What Conditions can be Treated with Cold Laser Therapy?
So, you're wondering if you should turn to our chiropractors for cold laser therapy, but you're not quite sure that this is the alternative therapy for you. No problem! Our team here at Sports & Spinal Wellness Center is always happy to sit down with you to discuss the issues you're dealing with and what you're looking for from treatment to determine if you're a good candidate for cold laser therapy. This type of laser therapy can be beneficial for treating:
Back pain
Fibromyalgia
Knee pain
Neck pain
Carpal tunnel syndrome
Arthritis-related pain
Tendonitis
Bursitis
Sprains and strains
Tennis elbow
Muscle spasms
Wound healing (for those dealing with wounds that don't heal, often caused by diabetes)
If you are interested in cold laser therapy and the benefits it offers, call Sports & Spinal Wellness Center in Albany and Guilderland, NY,
today at (518) 869-3415 to schedule a no-risk consultation with our chiropractic team.